EAS Purchase Requisition Entry (NIGP) - PTA Based
Overview - Requisition Charges to a Project, Task, & Award
Add to an Existing PO
When additional funds are needed on an existing PO, a new requisition is created and linked to the existing PO
Requisition Line Types
Goods: tangible products generally sold at a fixed unit price
Services: intangible services generally sold hourly
Leases: Monthly rental or lease agreements.  Work with Procurement prior to use
Categories (NIGP Codes)
A National Institute of Governmental Purchasing (NIGP) code defines the products / services that a vendor provides
Vendors receive solicitations based on the NIGP codes they register
Step-by-Step Process
Details of Requisition Request
Select the GW SC Departmental User Responsibility. Click to Proceed.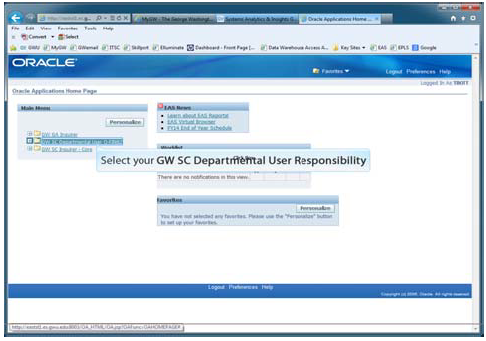 Select the Requisitions text box. Click to Proceed.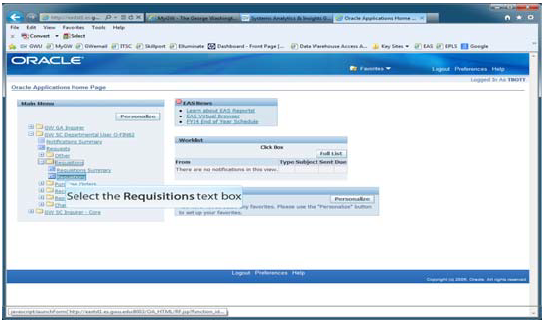 Enter Description - this is for your reference.  Press the tab key.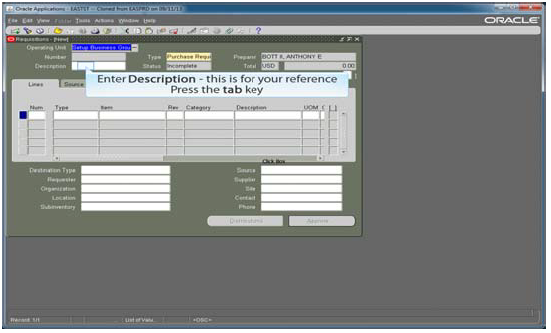 Select Yes or No. If Yes, another field will open for the PO number. Select OK.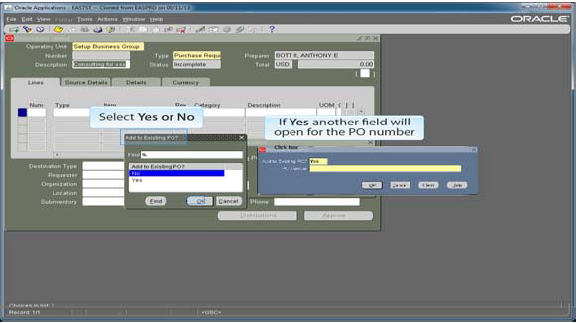 Default Line Type is Goods.  Other options are Services and Leases. (QuickPay is no longer available.)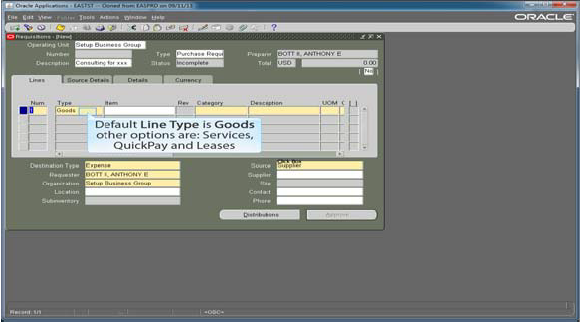 Select a line type, using the Type search icon to select one other than the default of Goods.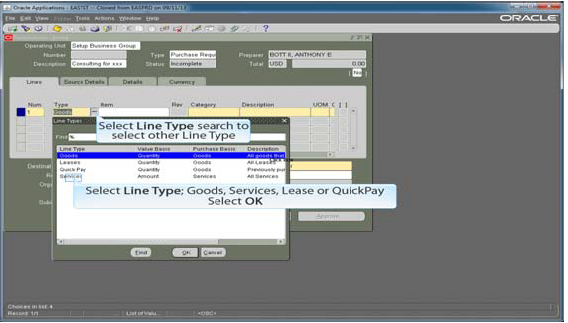 Select Category Search.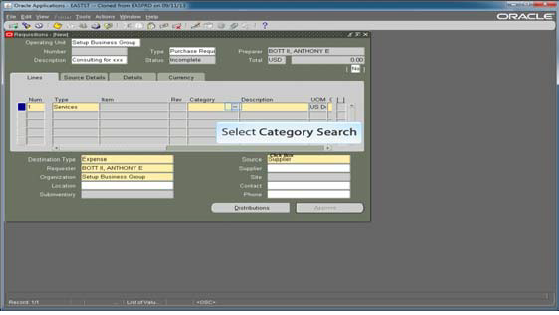 Enter either an NIGP Code (e.g. 918-00) or a partial description using % as a wildcard symbol.  Press Find.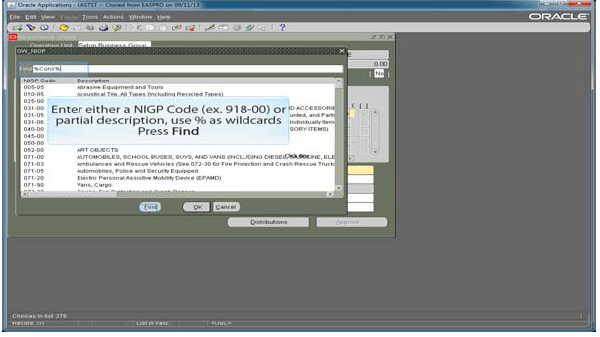 Select NIGP code and press OK.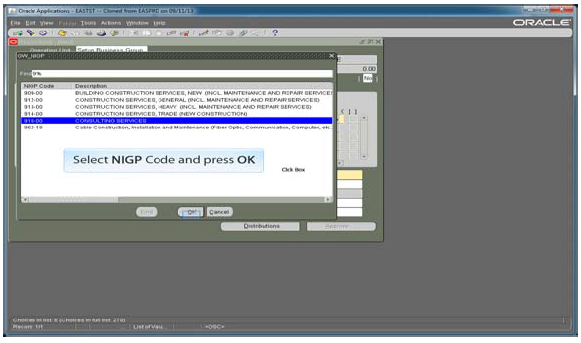 Enter Line Description and press the Tab key.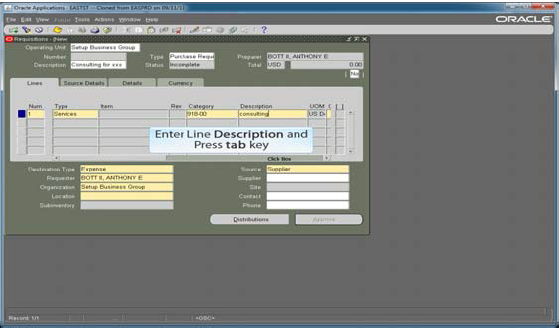 Enter Quantity and press the Tab key. Enter Price.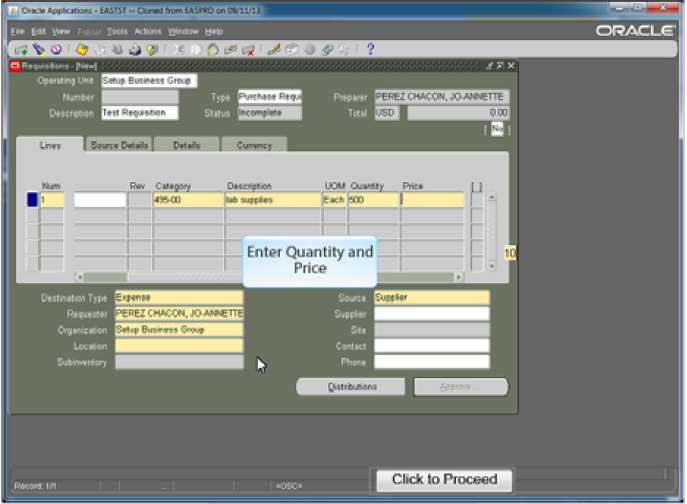 Need-By date is optional.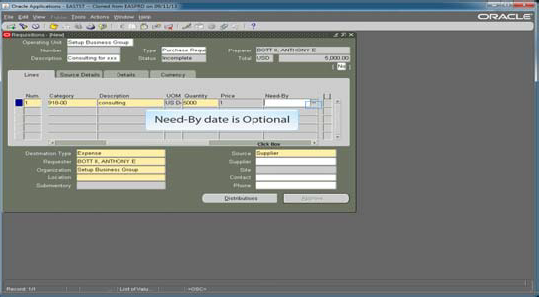 Select Date and OK for optional need-by date.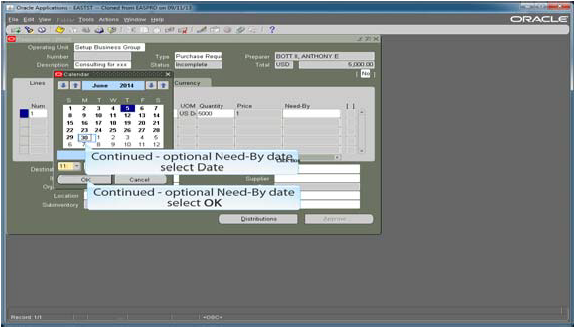 Select Location search.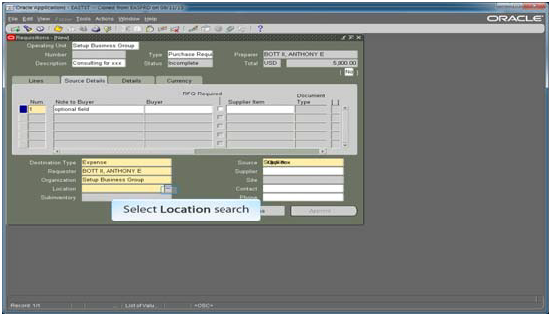 Enter street number and % (wildcard).  Press Find.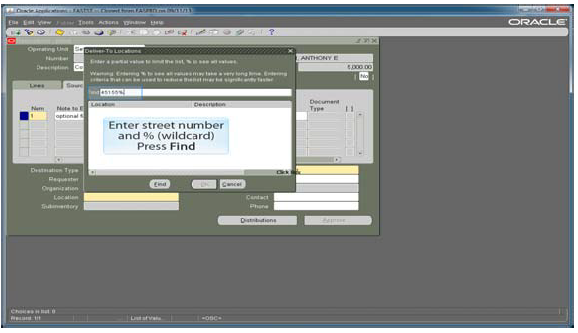 Select Location.  Press OK.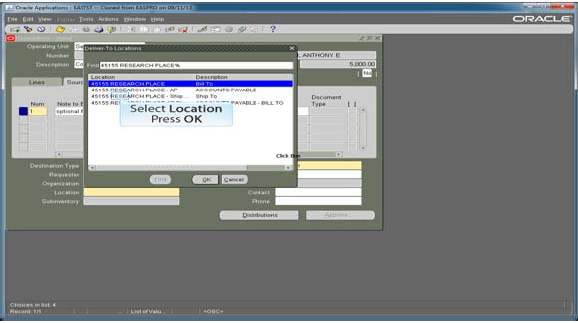 Supplier Information
Select Supplier search.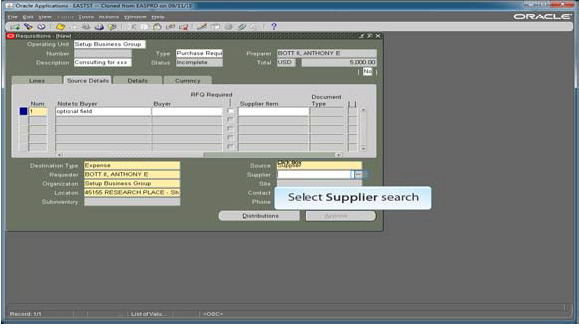 Enter partial supplier name using % to narrow the search results.  Select Find. Select the appropriate supplier if multiple ones are listed, and select OK.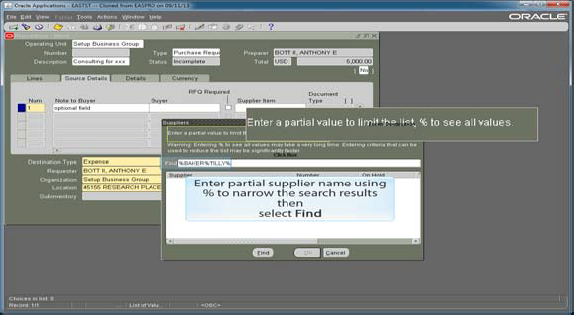 Select Site search.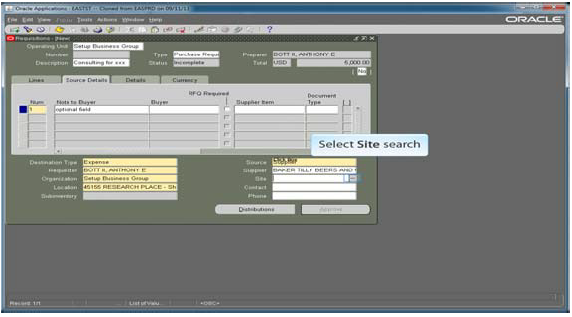 Select Site and press OK.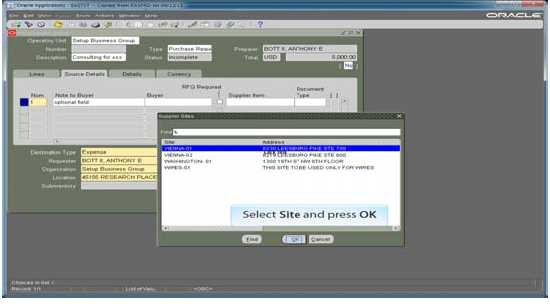 Distributions
Select Distributions.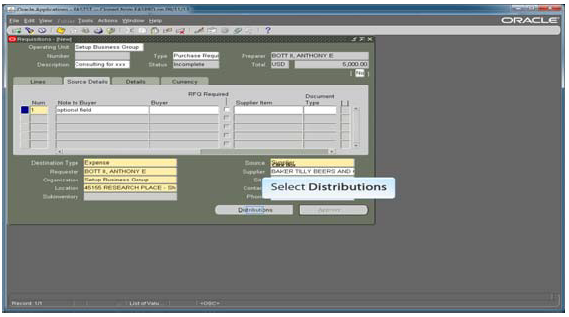 Select Project.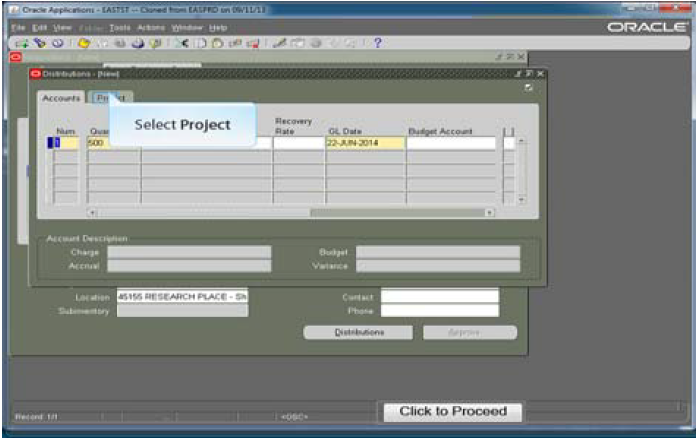 Enter Project, Task, Award, Expenditure Type, and Expenditure org.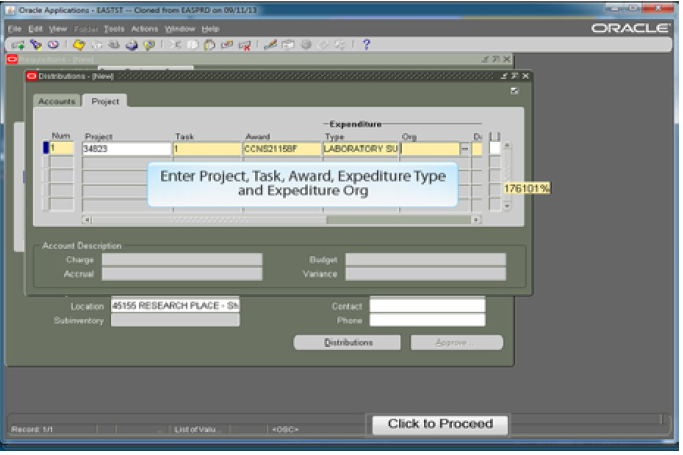 Enter Expenditure Date.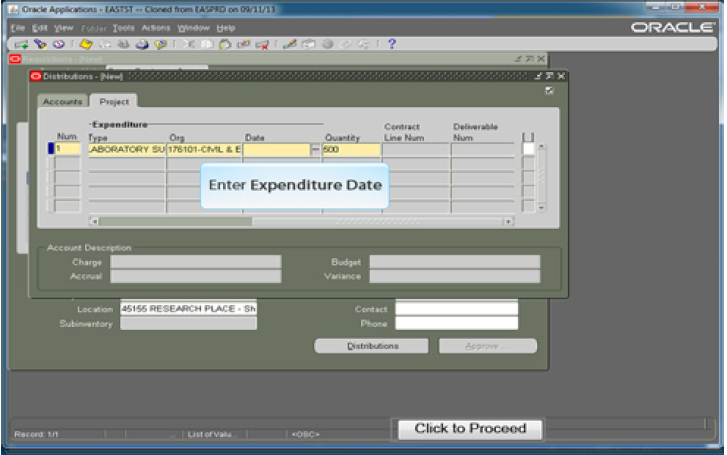 Select field in [  ] .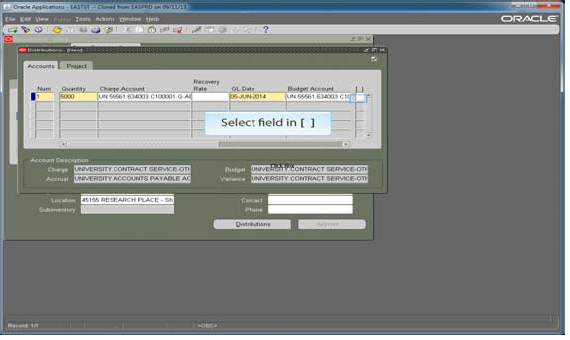 Select Suite of Office Number for delivery.  Select OK.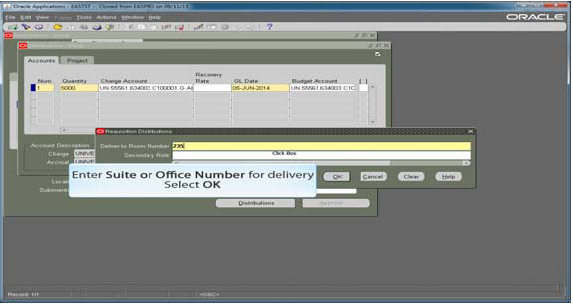 Select diskette icon to save record.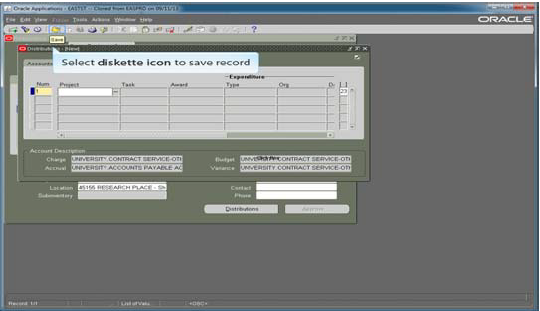 Close Distributions form.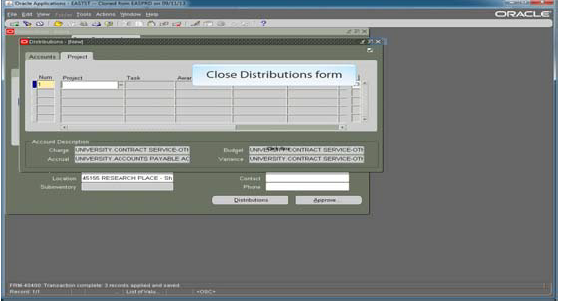 Attachments
Select the Number at the requisition header to add an attachment. Approvers can easily view documents attached to the requisition header.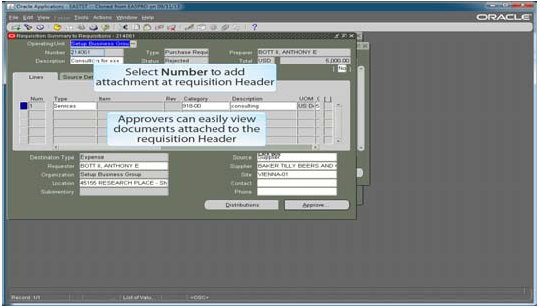 Select the paperclip icon.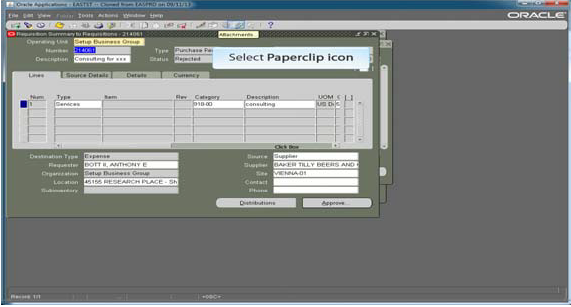 Select attachment Category search.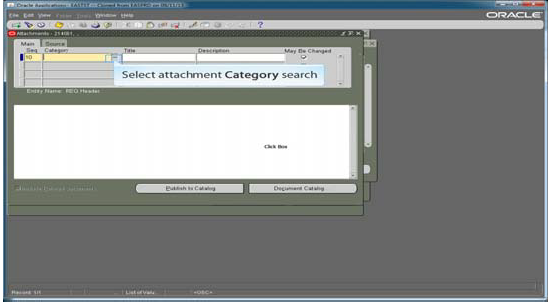 Enter % and select Find.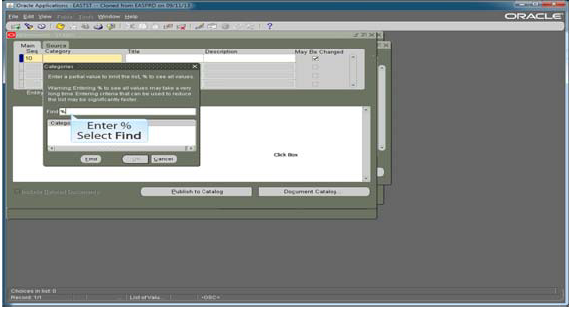 Select To Buyer to ensure the Procurement and Approvers can view attachments.  Select OK.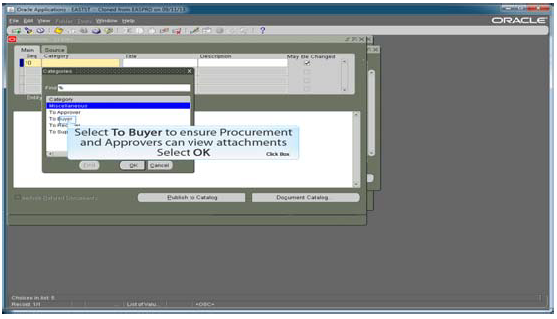 Enter document title and press Tab key.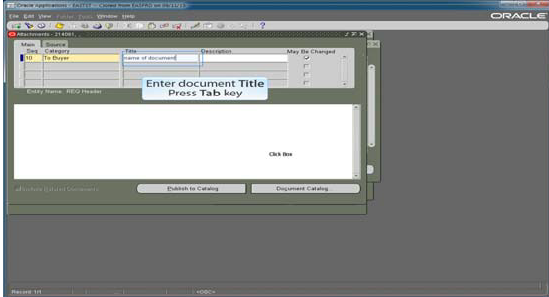 Enter attachment description and press the Tab key.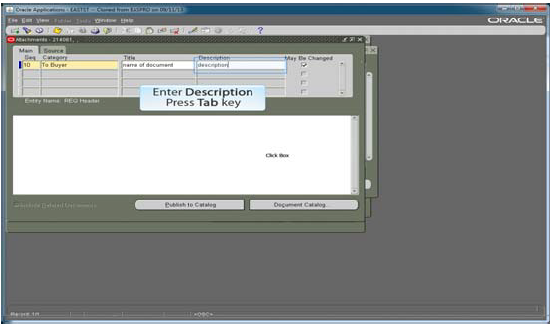 Enter Data Type search.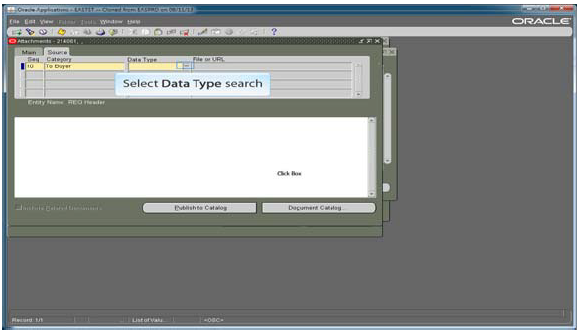 Select File.  Select OK.  To type text instead of uploading a file, select Long Text or Short Text and select OK.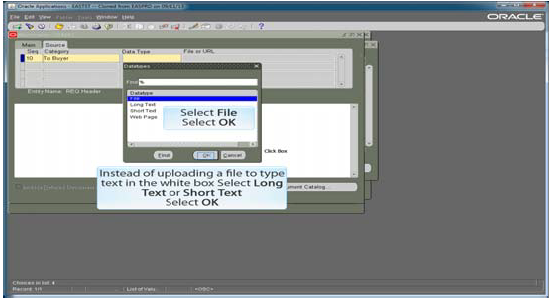 If this screen is immediately displayed the "import page" is minimized or behind this page.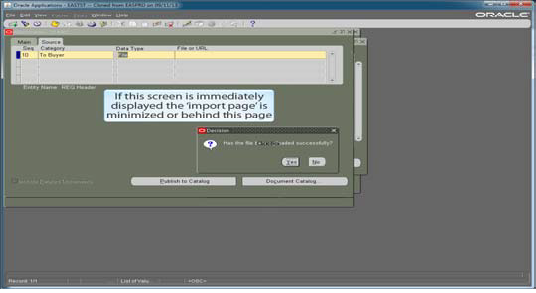 Click the Upload File box.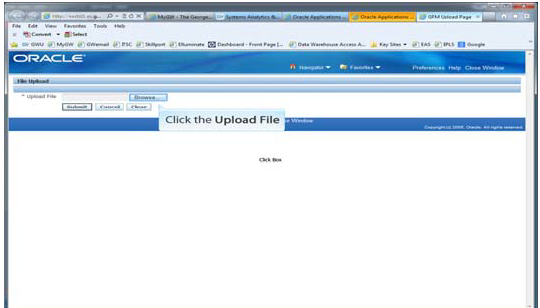 Select the Name text box, select the file to upload, and click the Open button.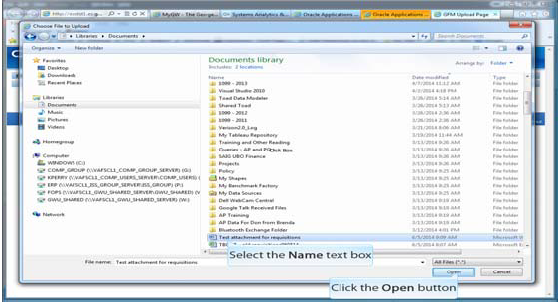 Confirmation should appear at the left.  Select the Close Window text box.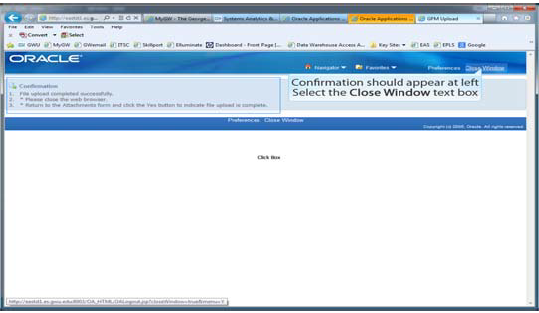 Select OK.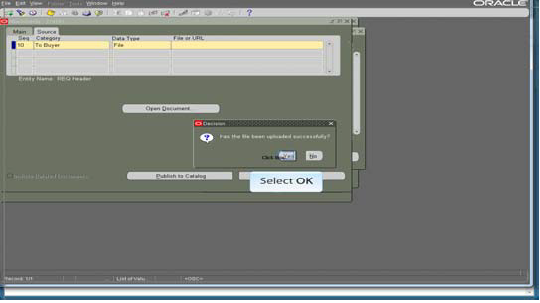 Select Open Document to confirm document was attached.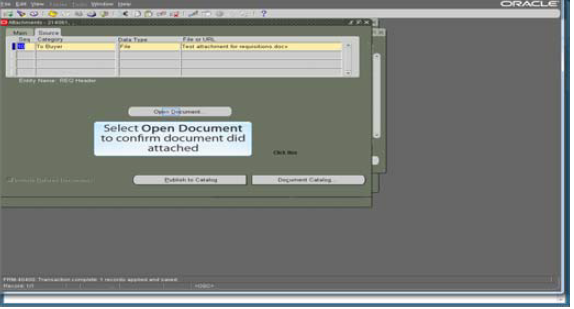 Close Attachments screen.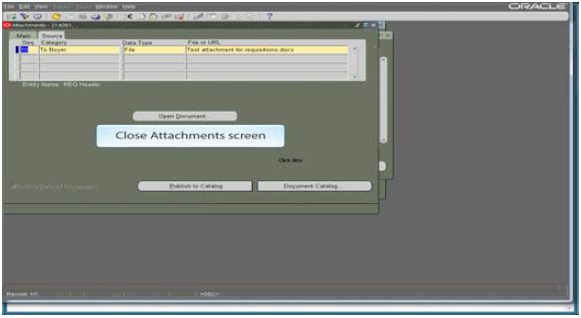 Approval
Select Approve.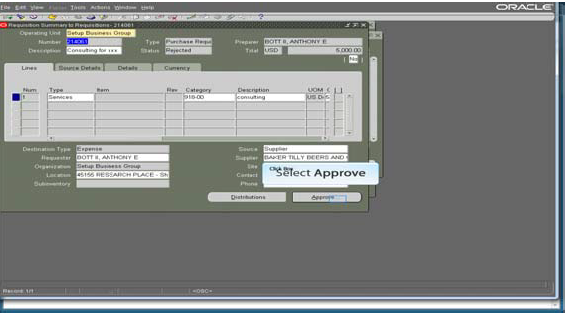 Optional - add a not to the approver.  Select OK.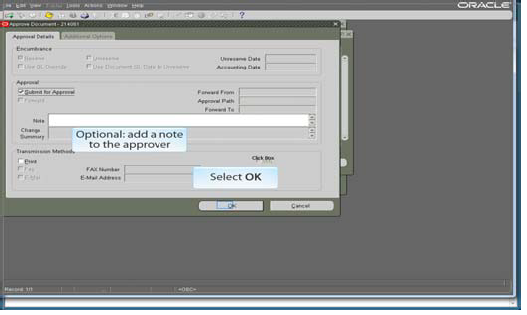 Select OK to submit.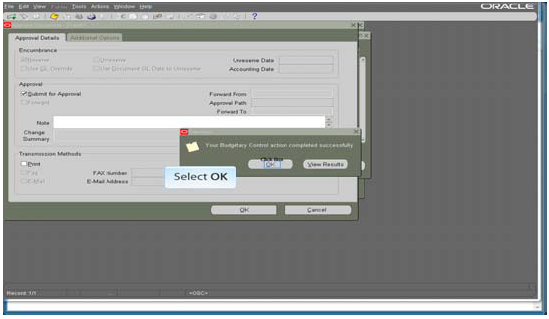 A new Requisition opens for entry.  Close if not needed.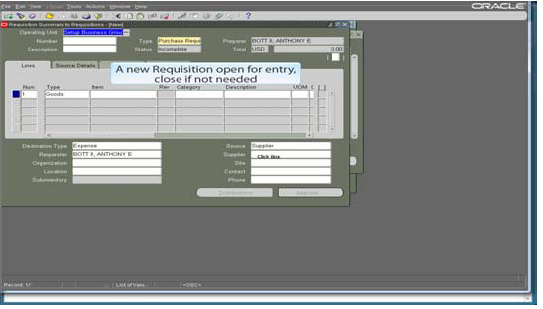 Requisition entry and submission complete!