EAS Vendor Inquiry
Supplier Registration
Information regarding the GW Supplier Registration process is available on the Procure-to-Pay webpage in the Doing Business With GW section.
The GW online supplier registration portal puts vendors in control of their own information.
GW personnel should not enter supplier registration information on behalf of the Vendor.
Supplier Search
To assist GW personnel in identifying Vendors that have registered with GW, an EAS 'Responsibility' is now available to all EAS users with a 'GW SC Departmental User XXXXX' responsibility. 'GW SC Supplier Inquiry' will be automatically assigned to eligible users.
Other users can request access via the normal EAS access requests process.
GW SC Supplier Inquiry provides a vendor search capability allowing the user to view information for all Vendors and Restricted Use (Conflict of Interest) suppliers. Information available:

Supplier Name
Supplier Number
Payment Terms
End Date (Suppliers with end dates cannot receive POs or Payments)
Supplier Addresses (Active and Inactive)
Workers Classification Form (WCF) Expiration Date (if applicable)
W9 Received (if applicable)
Other supplier information

GW SC Supplier Inquiry will not return results for 'Student' or 'Employee' suppliers, as records may contain sensitive information
Note:  Vendor Inquiry exclusion does not affect a Student or Employee eligibility to be awarded Purchase Orders or receive payments through University Payables.
GW SC Supplier Inquiry
Log into EAS and select GW SC Supplier Inquiry from the Main Menu.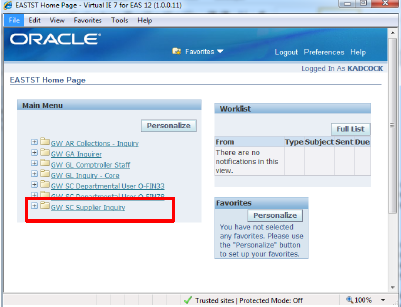 Enter search parameter(s) and press 'Go'.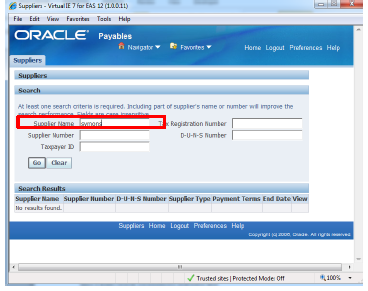 Sample Partial Name Search
Searching for the vendor Symons Services, Inc. by entering the parameter "sym" in the Supplier Name box. 8 Suppliers beginning with "sym" appear - Symons Services, Inc. is highlighted. To view supplier information click the View icon on the far right of the vendor line.
Note: The wildcard % sign can also be used when searching using a partial Vendor name.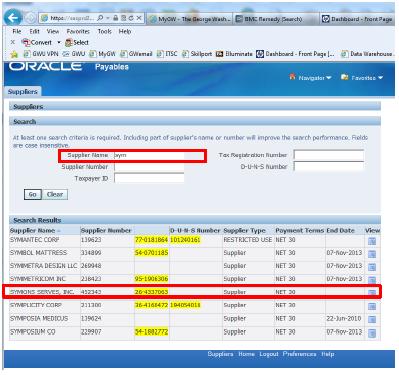 :
The Quick Update view screen opens (view access only).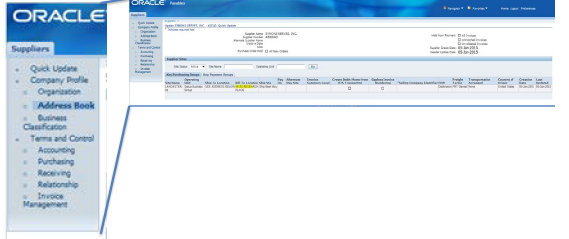 Vendor Search Using Wildcards
The wildcard (%) search is ideal when the exact supplier name in EAS is not known. Perform a partial-name search, replacing all punctuation with %. The wildcard can be placed both in front and behind the partial name. The search is not case sensitive.
When only one Vendor matches the search no list is shown, and the Suppliers screen with vendor information appears. To view additional vendor information click the Suppliers Menu.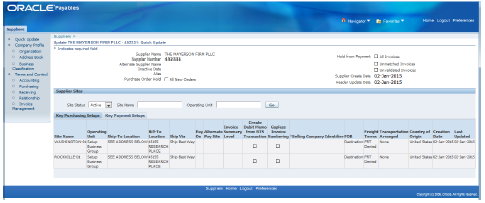 Suppliers Menu Key Items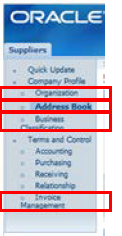 Organization: (populated when applicable): W8 Received, DC Certificate Number , W9 Received, WCF Expiration Date, DUNS Number and other business size and structure information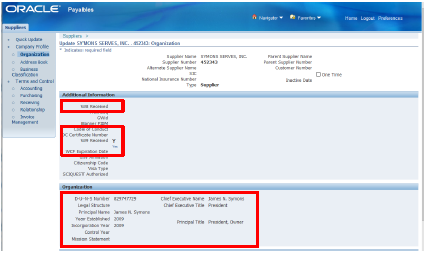 Address Book: Vendor Addresses, telephone numbers and email addresses
Business Classification: Vendors who self-register will include Business Classification information such as Small Business, Woman Owned, Minority, etc. Legacy Vendors will need to add Business Classification to their vendor record.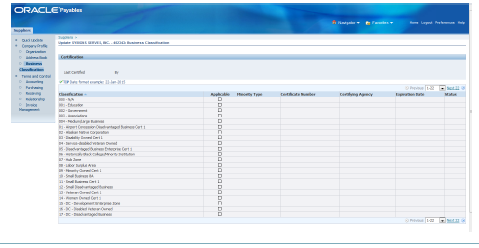 Invoice Management: Payment Terms (discount payment terms would be listed), Payment Hold information